Detailing
Scheduling appointments can be done by phone or online.
We have a variety of packages and services to choose from.
Steam Hand Wash
Premium Exterior steam wash, wheels, clean door jams, micro-fiber hand towel dried finish


X-treme Interior Detailing
Complete Interior Detailing
Xtreme Interior Vacuum
Interior Steamed removing stains from carpets, seats and mats
Vinyls, vents and windows cleaned restoring your vehicles luster


Engine Steam Cleaning and Dressed
Steam clean engine compartment removing dirt and grease. Applied dressing restores engine appearance, looking like new.

3M Paint Protection Film
Protect your paint finish by installing the 3M "Clear Bra" Paint Protection Film" This thin invisible bra is designed to save cars, motorcycles, trucks, vans and other types of vehicles protecting against day to day paint damages.


Windshield Chip Repair
Repair the chips in your windshield while your car is getting detailed! Our chip repair service saves you time, money and helps save your windshield from a trip to the landfill
PACKAGES
---
X-treme Package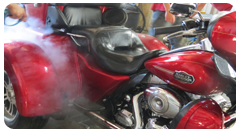 Exterior Steam Hand wash
Xtreme Interior Detailing
Fabric or Leather Protection
Air Purifier
Xtreme Polish
Tire Dressing
---
If you do not see a service or package that fits your needs, please do not hesitate to contact us by phone or email with your requirements and we will be glad to assist you in creating a custom detailing package to suit your specific detailing needs.
*ASK ABOUT OUR FLEET SERVICES*